The two most prominent questions bewildering parents & engineering aspirant children these days are:
1. Which college?
2. Which Branch?
In addition to summers, winter & rains, in India, we have to acclimatize ourselves with admission season. In this climate one get's to savour enticing advertisements from various colleges- each one making tall claims about their professionalism and education standards.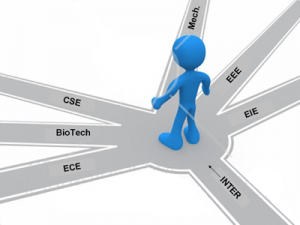 Over ages, engineering qualification has been able to develop a "rest assured" perception for itself. A degree in engineering is considered to be a minimum qualification to feel secured in the career scope in India. It has been time and again proved that engineers are highly versatile when it comes to identifying employment. We have seen engineers getting into out of stream career ventures like creating a milk revolution, telecom revolution or may be becoming a politician, an author, a cricketer or even a magician.
It is also a fact the once upon a time in India, getting an engineering degree was worth a dream achieved. As of date the scenario has changed and the life beyond engineering college is not very encouraging for majority of the students. Thanks to the market slump and the global economic slowdown, jobs are not coming automatically to the fresh pass out engineers. As such, lacks of employment aspiring engineers are being dumped every year into the market. A very important question to be answered is the reason why are these many unemployable engineers churned out year on year?
One of the most prominent reason for an engineer not getting proper placement from campus is wrong alignment. Opportunities definitely follow those students who select the right academic slot. Choices are the hinges of destiny, said Pythagorus. Especially when one is on cross roads of career and the decision taken today decides the course of future life.
Father of one engineering student is a reputed builder and vehemently wants his son to join the patriarchal construction business. Without even bothering to explore if the young lad even had an aptitude for engineering, leave aside civil engineering, the boy was dumped into the factory of manufacturing an engineering graduate as a raw material! There are many more cases where students have been found to opt an education stream which lies beyond their circle of choice!
Mechanical, Mechatronics, EEE, Electrical, Computer Science, IT or something else?; there are hundreds of varieties

of engineering branches and sub branches available in the prospectus to select from. Deciding upon the right engineering branch is too tricky for both students and their parents. "It is just like medicines; every composition has some value and is helpful to cure some or the other illness but the right match happens only when the doctor reads the symptoms appropriately and prescribes medicine accordingly.
Likewise all engineering branches lead to success - what is required is to have the right match." The need is to choose the branch as per the interest, aptitude and ability of the student. Selecting a branch of engineering also depends on the students career planning. It is must that students should be able to evaluate their inherent personality traits and match it against those which may be the mandatory determinants for success for any particular branch of engineering.
Here are a few tips to wisely select the right branch of engineering:
1. The big dilemma: Branch or College?

My take: both are important, branch as well as the college and you have to be really fortunate to be the one to get both. Nevertheless in a situation where one has to make a choice, I suggest the students to first weigh the options available with them and research the credentials of the institute thoroughly. Study the college websites and ensure the basics of accreditation etc to be in place. You have all the rights to ask for these details. Review the past performance of the institute in terms of placements, teaching faculty and infrastructure. Even if the institute which comes your way might not be as rated as the top notch institutions, I would still suggest giving more numbers to the branch of your choice. Faculties keep moving from one college to another and down the list institutes keep moving up in order if the management's vision is right.
2. Stick to your interest
Many children get compelled either by parents or by peers to select some particular branch of engineering. All such students should take into cognizance the fact that future scope would be worthwhile only when you have the desired aptitude to work in the particular field. The fact remains that every branch brings about decent set of opportunities. However if you end up selecting a branch only on the basis of presumed job prospects, it might not lead you anywhere.
3. Look beyond four years
Engineering degree is not the end of journey for most of the students. A lot many students prepare for post graduation either in the field of engineering or administration or management. It would be wise to plan for future and evaluate the options of higher education, coaching etc. Students should try to visualise the demands from their life & career just after graduation. Every branch of engineering terminates into a pool consisting of a specific set of job roles. Before selecting a branch of engineering, students should try and meet as many engineering professionals as possible and understand their lifestyle and career prospects. This will give them professional insights, generate clarity and enable them to take the right decision.
FINAL WORD :
All branches of engineering have the potential to deliver a great future to the student. More than selection of the institute it is the selection of the right branch which is critical. Do opt for the branch of engineering appropriately in cognizance with your aptitude, interest & available skill set. Where ever in dilemma, do not hesitate to ask for professional help. Be clairvoyant in selecting the right branch and the right institute.
Happy Engineering to you.

Follow Ajit Varwandkar on Twitter : @varwandkar and write to him on email: ajitvarwandkar@gmail.com (Author is a leading career coach in India and deals into manpower placement, skill development and career guidance portfolios, more about the author on www.aglakadam.org )